GENERAL INFORMATION
TES4Trig aims at developing an innovative CCHP system driven by solar parabolic trough collectors (PTCs), based on the integration of the Organic Rankine Cycle (ORC) and Ejector Cooling Cycle (ECC) with a cost-effective TES system. Solar energy that is stored during periods of excess solar availability is used on-demand to produce electricity and domestic hot water (DHW) throughout the whole year, while space heating and cooling are additionally produced in winter and summer, respectively. Within the project, the individual subsystems (PTCs, TES, ORC-ECC module) will be designed and integrated into a TES4Trig prototype, which will be demonstrated on-site of a consumer in Greece, in order to prove its feasibility and evaluate its actual performance in a real operating environment.
6 partners take part in the project (3 of them from Greece, 2 from Germany and 1 from Spain) and more specifically (abbreviated names in parentheses)
Greece
National Technical University of Athens, Laboratory of Steam Boilers & Thermal Plants (NTUA)- project coordinator
NCSR «DEMOKRITOS», Solar & other Energy Systems Laboratory (SESL)
MES ENERGY SA, (MESE)
Germany
Aachen University of Applied Sciences, Solar-Institut Jülich (SIJ)
Protarget AG (PT)
Spain
CADE Soluciones de Ingeniería, S.L. (CADE)
Total Budget: 1.356.270€


Duration: 30 months


Work Packages:
| No | Work Package Title | Leader |
| --- | --- | --- |
| 1 | Identification of design parameters | MESE |
| 2 | System design | CADE |
| 3 | Manufacturing and installation | NTUA |
| 4 | Control system development | CADE |
| 5 | Plant operation | PT |
| 6 | Simulation and system analysis | SIJ |
| 7 | Dissemination - communication | SESL |
| 8 | Scientific and technical support | NTUA |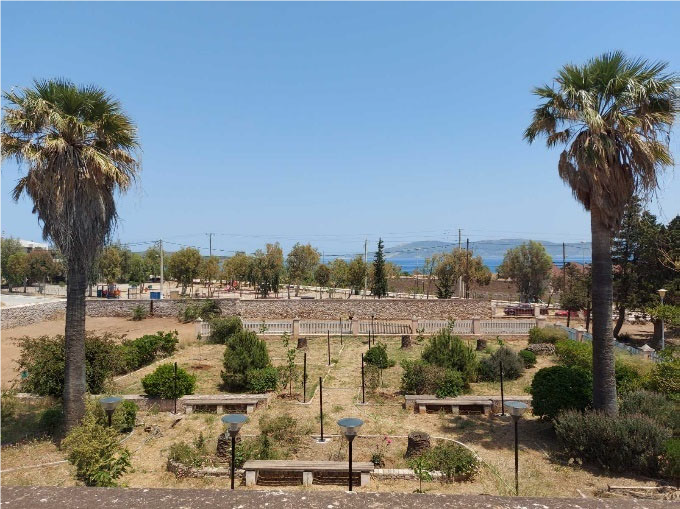 The prototype solar trigeneration system will be installed at the Lavrion Technological and Cultural Park (LTCP), Attica, Greece, at a site lying northeast of the Serpieri Villa, and shown on the side picture. This building is of particular symbolic and architectural value, built in 1875, now being occupied by the administration offices of the LTCP. The integration of the project system will be carried out in such a manner as to interfere with the aesthetics of neither the building nor the garden of the Serpieri Villa.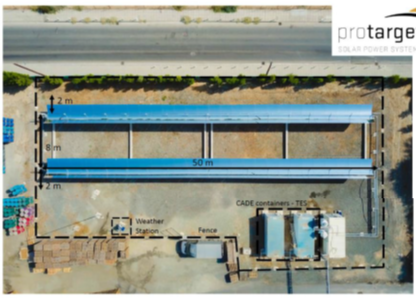 At this site, a solar field of high-temperature (250⁰C-400⁰C), parabolic-trough collectors of a nominal useful thermal power of 100-120 kWth will be installed, arranged in two parallel rows, as shown in the side picture. Furthermore, special containers will be built, housing the thermal storage modules made of concrete, which will be connected to the solar filed. The system will be able to meet a large portion of the energy needs of the Villa Serpieri, as well as the adjacent Pharmacy building.